if you've ever applied for a raffle ticket to hike half dome in the summertime, you understand how it's practically impossible (at least now) to do so. i applied not once, but three times, and got turned away all the way up to the night before the hike. at that point, we (me, marcus, and cody) had already driven a handful of hours to yosemite, and were already posted up in a cabin near the valley, ready to go somewhere.
plan a: half dome. plan b: cloud's rest.
at 11:30 the night before, i received the third and last rejection email. so we went to bed, woke up the next day at 5 am, and drove two hours to the cloud's rest trailhead near tenaya lake.
cloud's rest is one of the gnarliest hikes i've ever done, primarily because of the varied, unpredictable terrain and altitude. 14 miles roundtrip, ~10,000 feet in elevation, bushwhacking and trekking through water, snow, trees, dirt, and marsh.
at 7:30 am and 30 feet into the start of our hike, we had to wade through cold, cold tenaya lake to continue on our trail. okay….coolio.
it was thigh high for me, knee deep for the guys. we hopped on a makeshift stone path someone carefully laid out once the lake was dried up, kinda like a video game.
despite being surrounded by snow and sleet, we were pretty warmed up in the 60, 70° light.
during the first ascent, we managed to lose site of our trail and hiked up an untouched, snowy side of the mountain, walking across snow banks and fallen logs. what looked sturdy on the surface, was hollow or just about to break beneath. cody fell through a few boulders while crossing on a questionable log and cut up his leg pretty bad. a few minutes later, he fell through a snow bank.
getting to the top was surreal. mountain ranges as far as my eyes could see. snow capped hills, trees, and countless tiny trails in the distance. this was it!!
here we were, at cloud's rest summit, staring out at half dome. arguably, i'll say it was the better view. ;) we ran into a handful of people at the top. fellow half dome rejects + fucking crazies like us…but nothing in comparison to another breed of runner we met who was running peak to peak. the mountain that took us a few hours to scale took him maybe one (or less). we met him again later…us walking briskly, making our way back, him running more, like a maniac.
i've been on many hikes that have ended with sandwiches, but none compare to the sandwich i ate up here. partly because by the time i got to the top, i was ready to eat five of these. simply: a couple of turkey slices smothered between two slices of now soggy wheat bread, very wet spinach, and a generous dollop of yellow mustard. i brought a tomato, avocado, and a knife to slice the two at the top (can't afford to smush those, too), and some banana peppers for a kick because i'm a brat hahah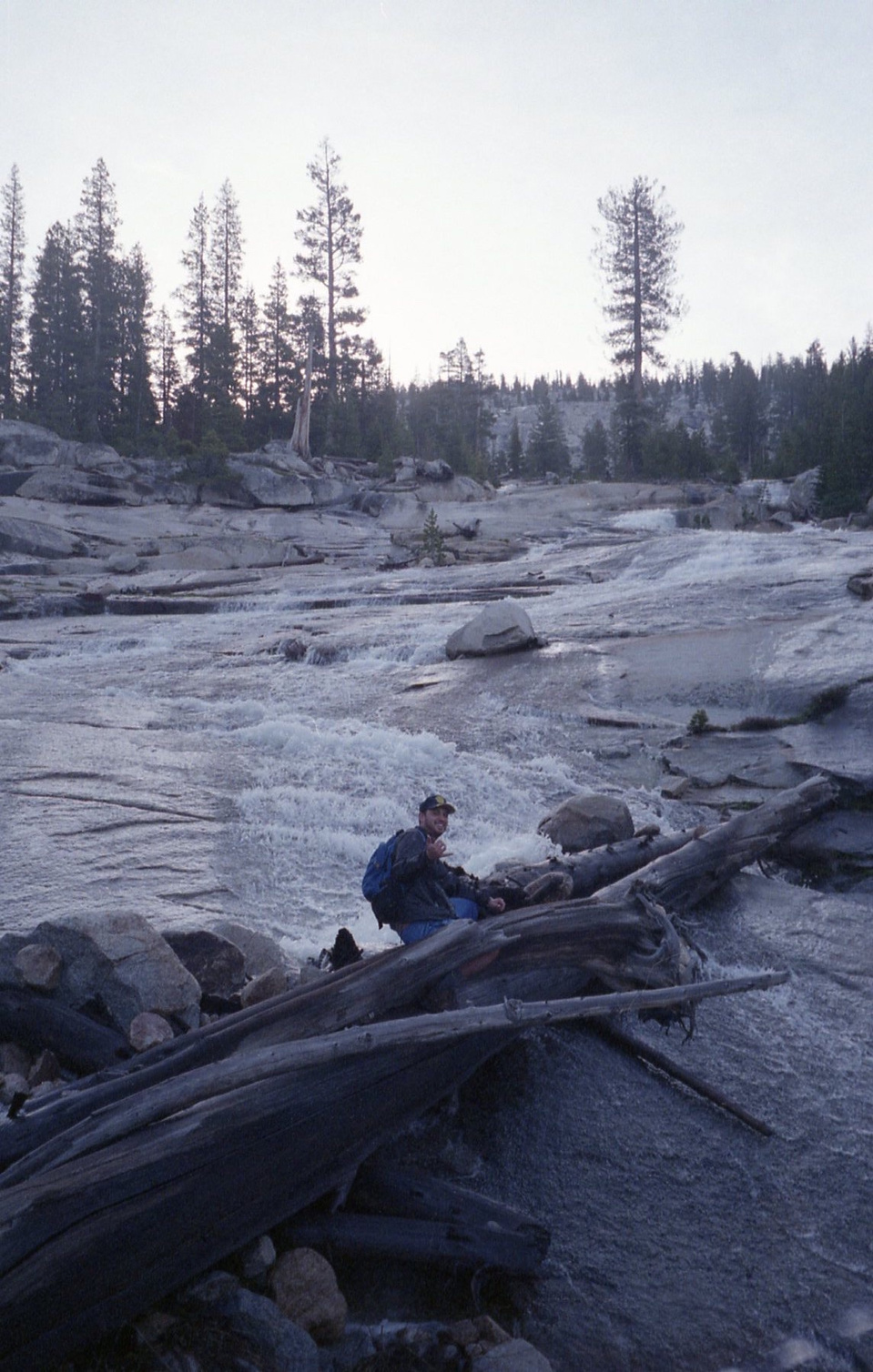 on the way back down, we needed to refill our packs, so we found a lake and brought out the water filter. it was the first time i tasted glacier water – pure, delicious, mountain liquid. i've never knew granite could taste so damn good. the melting snow caps offered a rushing river down each peak, so i got as much as i could to quench my thirst then and much, much later. i wouldn't end up drinking the rest of my water pack for another few months after this trip. still very good.
further and further down, we sped through what we spent a while navigating through. at one point, we were blazing down the snowy mountains, feeling high on reaching the summit, knowing we'd eventually make our way back to home base.
the sun started peaking out and it was barely 2 pm when we made it back to the trailhead, where i forgot about/happily agreed to drive the two hours back to the cabin. we all came out with these funny tans…kinda like battle scars from a day that's pleasantly burned in my brain